Over several years, Cornell University's Office of Community Relations has developed progressive, collaborative initiatives tied to race, equity and diversity, under a broad umbrella that includes a large cross section of campus and community interests.
Our efforts have revolved around inclusive media, and proactive meetings, not simply as one-offs in response to a crisis, but tools that are used for daily work and connectivity. Among many student daily interactions, Office of Community Relations Director Gary Stewart is also an executive mentor in Cornell's Meinig National Scholars Program.
In 2015, Cornell University's Office of Community Relations was recognized with the Martin Luther King Jr. Peacemaker Award by Ithaca's Community Dispute Resolution Center for its effective outreach efforts.
In 2016, Community Relations received the 2016 Presidential Excellence Award from the International Town-Gown Association, cited for its proactive work on a number of fronts, including race relations, just one part of an essential town-gown relationship.
Inclusive Media
The award-winning weekly radio show "All Things Equal" made its debut in August 2008, and airs on Tuesday mornings. This award-winning show - produced by Cornell's Office of Community Relations and broadcast on WHCU – touches on everything from K-12 equity strategies, to local affordable housing and employment challenges.
Over the years, it has been a steady resource for folks from every background in Tompkins County, and provides an opportunity for measured, 15-minute conversations designed to nurture and forward the important issues of our day.
Interviews in recent months have included:
Orinthia Montaque , new President of Tompkins Cortland Community College (TC3)
Shirley Collado, new president of Ithaca College
Ithaca City School District superintendent Luvelle Brown on violence in his hometown of Charlottesville.
Luca Maurer, Director of the LGBTQ Resource Center at Ithaca College
Cornell students Millie Katzenbaum and Julia Greenberg about connecting with off-campus residents through a new Cornell program.
Cornell student Bobby Smith, representing Black Lives Matter.
Cornell students Antoine Saint-Victor and Lufi Khalafalla from Cornell's Men of Color Council.
Cornell's ADA Coordinator Andrea Haenlin-Mott and Kappy Fahey, Director of Student Disabilities Services.
Nagiane Lacka Arriaza from the Greater Ithaca Activities Center. who works with Cornell Hotel School students on empowering young people entering the job market.
Renee Alexander from the Cornell Center for Intercultural Dialogue on the student experience.
Fabina Colon, director of the Multicultural Resource Center located at Cornell Coopertative Extension, on connecting Cornell students and the community.
Representatives from Engaged Cornell and the Public Service Center on the role of students in the greater Ithaca community.
All Things Equal" was previously nominated for the National Association of Broadcasters Education Foundation's (NABEF) Celebration of Service to America Award by a coalition of community members, and won the SUNY Council for University Advancement Top Award for Interactive Media in 2011.
East Hill Notes is a twice-monthly newspaper column published in Tompkins Weekly, addressing any number of timely town-gown topics, with previous pieces written by Cornell students, staff and others. It fleshes out current events, notable programs and daily community-campus challenges and opportunities on a number of fronts.
Another 2015 column was written by Cornell students promoting the work of the Cornell Student Assembly's City and Local Affairs Committee. Its mission is to further enhance connections between on- and off-campus communities, with a focus on Cornell's diverse student body.
Proactive Meetings
The Local Leaders of Color group was created in 2006, and has remained an essential resource for Cornell and community leadership. LLC beginnings.
Co-chaired by Cornell's president (David Skorton, Beth Garrett, Hunter Rawlings and Martha Pollack have attended meetings) and Marcia (Fort) Baum, long-time director of the Greater Ithaca Activities Center, now retired, this special collaboration was touched on when Community Relations received the 2015 Martin Luther King Jr. Peacemaker Award.
Being Engaged And Responsible (BEAR) Walk
The annual BEAR Walk program, is intended to promote a greater sense of community in Collegetown, with Cornell students, Ithaca officials, Cornell staff, and Cornell and Ithaca city police officers. The event is held in mid to late August at the beginning of the school year. Cornell's BEAR (Being Engaged and Responsible) walk program is modeled after Penn State's successful LION (Living in One Neighborhood) Walk program.
Participants meet for a community dinner then team up and distribute Bear Walk bags throughout Collegetown with the goal of building positive relationships among Cornell students, Collegetown residents and the university. Some years, the program has included a community fair with representatives available from local agencies and city offices to distribute materials and information to attendees. Speakers include Cornell and city leadership. Entertainment and refreshments round out the program offerings.
For information on this years BEAR walk check out our news blog.
Collegetown Neighborhood Council
The Collegetown Neighborhood Council (CNC) brings together neighbors, business owners, and students who live and work in the Collegetown neighborhood along with Cornell staff to discuss topics of mutual interest. Meetings occur 2 – 3 times per semester and topics in the past have included construction information, program details, and project updates. Topics are generated by the membership. Meetings are typically held in the basement of the St. Luke Church on Oak Avenue in Collegetown.
If you'd like to be added to our CNC listserv to find out when meetings will be held and for the latest Collegetown updates, let us know.
University Relations Campus-Community Leadership Award
This annual honor is presented to a graduating senior who has shown exceptional town-gown leadership and innovation.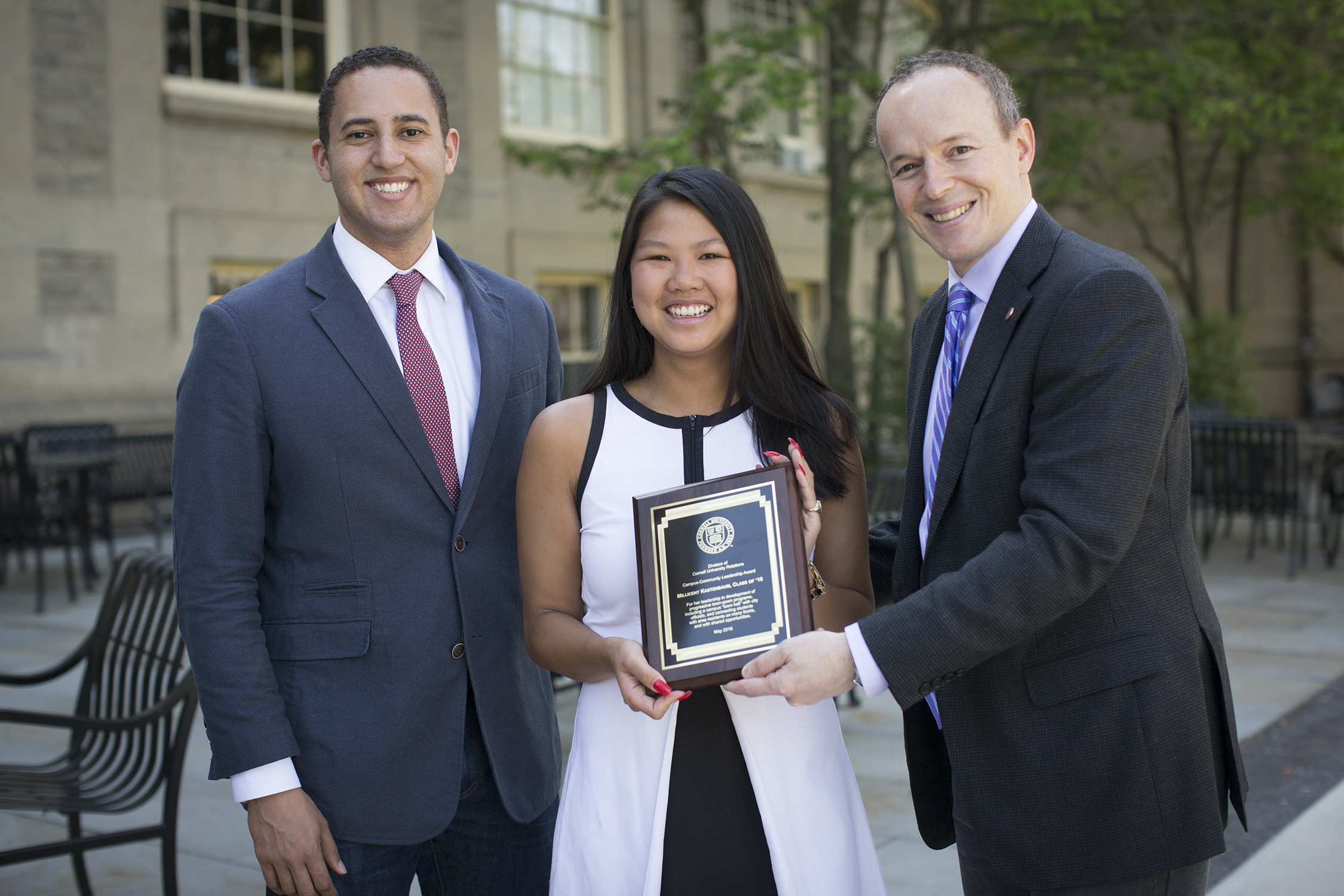 Millie Kastenbaum '16 was the inaugural winner of the Cornell University Relations Campus-Community Leadership Award.
Kastenbaum was instrumental in launching and chairing the Cornell Student Assembly's (SA) City and Local Affairs Committee. Among a variety of initiatives promoting town-gown connectivity – including the popular "Home Plate at Cornell" – Kastenbaum organized a well-attended "town hall" with city of Ithaca officials at which city staff and elected officials took questions on housing, law enforcement, planning and other quality-of-life issues.
For more on Millie's achievement click here.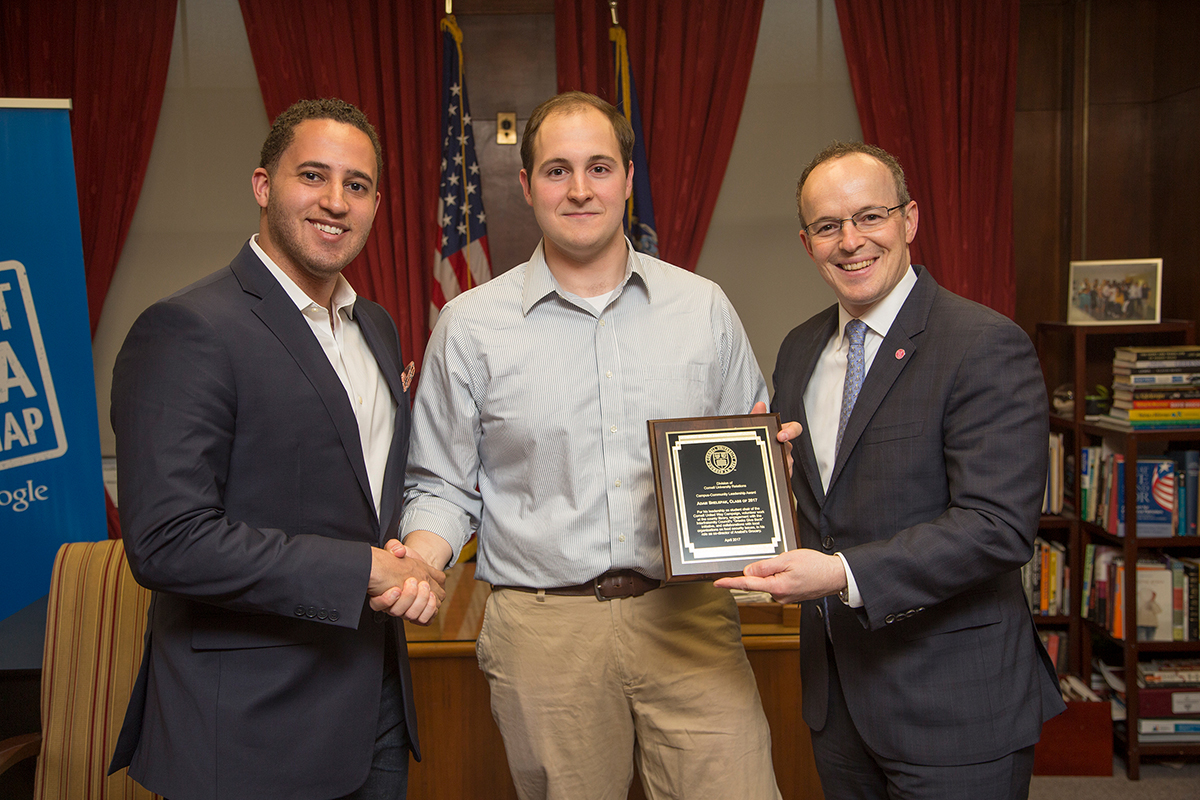 Adam Shelepak '17 was the 2017 winner of the Cornell University Relations Campus-Community Leadership Award.
Among his many off-campus activities, Shelepak has served as chair of the Cornell Student United Way Campaign, which raises $30,000 annually for nonprofit organizations across Tompkins County. He has also volunteered at the Tompkins County Public Library, distributed information about lead exposure from paint in at-risk Ithaca-area neighborhoods and served as co-director of Anabel's Grocery.
For more on Adam's achievement click here.
Greta Sloan '18 is the 2018 recipient of the Cornell University Relations Campus-Community Leadership Award.
Sloan, a human development major in the College of Human Ecology, has served as a four-year volunteer and most recently as co-president of Cornell's Youth Outreach Undergraduates Reshaping Success program, which mentors youth in mobile home parks in the town of Dryden, New York.
In addition, Sloan is a Program for Research on Youth Development and Engagement (PRYDE) scholar through Cornell's Bronfenbrenner Center for Translational Research.
PRYDE partners with New York state 4-H programs to investigate youth development, and in recent months designed and conducted program evaluation on 4-H after-school programs in Tompkins, Seneca, Ontario and Warren counties.
For more on Greta's achievement click here.